Polyester Geogrid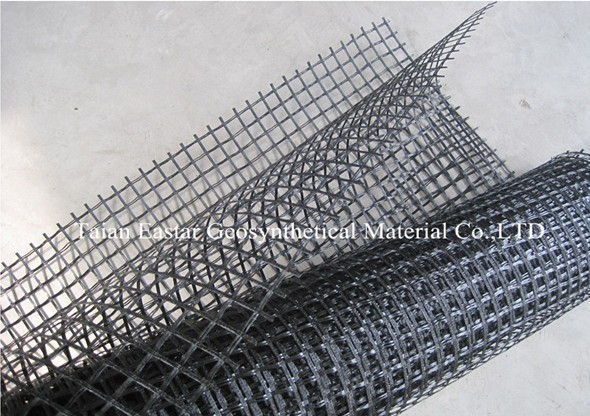 Warp Knitted Polyester Geogrid adopts high strength, high modulus, and low shrinkage twisting industrial polyester fiber as raw material. It is warp knitted with oriented structure and in the condition of no bending among warp and weft direction. Its crossing points are bundled and bended together by high strength long polyester fiber forming tough conjunction. Then it forms into mesh size product after coated with high quality water-soluble PVC which improves its strength, shearing force, various technical standards and gives full paly of its mechanical property.
Features of Polyester Geogrid

1. High tensile strength, high-volume, low creep;
2. Anti-aging and anti-brittle fracture;
3. Good and easy combination with gravel of a variety of design;
4. Easy construction: low weight, easy operation, simple construction.
5. Adopting high-strength and high-modulus polyester or glass fiber, it is knitted into loom-state grid fabric by warp knitting and processed into grid by coating modified bitumen or PVC.
6. High intension, high tenacity, high occlusive force with soil or gravel,erosion-resistant, water drainage, light weigh.
Usages of Polyester Geogrid

1. Strengthening soft roadbed of high-class roads and high speed railways, separating different subgrade soil material.
2. Using in reclamation engineering, dam, landslides and retaining wall.
3. Enhancing various roadbeds.
4. Strengthening soft roadbed of airport.
Specification of Polyester Geogrid